When last we met (well, when last we talked style), I talked about how my transitional wardrobe has helped me actually fit into my regular clothes in the
first trimester
while avoiding (for the most part) the "pregnant or just fat?" feeling that's kind of inevitable those first few months...
This is particularly important because I don't know about you, but my post-partum body settles into a distinctly first trimester shape for the first month or two or five after a baby is born. And given our (lack of) child spacing, it
just didn't make sense
to keep buying clothes that I could only wear for a few months, at most!
Some of the most useful items of clothing I've found are:
Full a-line skirts like this one:
Green crinkle midi skirt
Stretchy pencil skirts like this:
Zig Zag tube skirt
Flowy button-downs that can be tied or tucked, like this:
Mini daisy rollsleeve shirt
(I love the idea of mixing the patterns with the striped pencil skirt and this shirt!)
Nursing-friendly dresses that hide a belly, like this:
Grey floral drape dress
(and you could pair it with a button-down to switch things up a bit)
That's basically it! I also love a good shift dress, but it can be hard to find nursing-friendly shifts. Look for shirtdresses and belt them!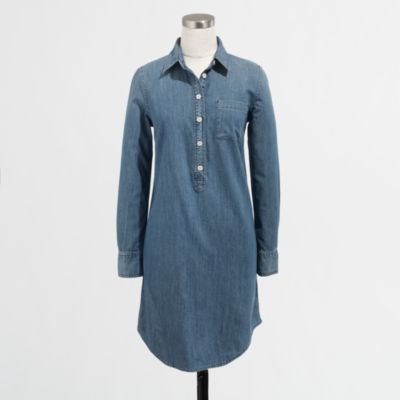 Chambray shirtdress
Want more ideas? I would
absolutely
buy this skirt (probably in tall so it hit me a little longer) if I could justify buying any more clothes right now:
Knit circle skirt
And I already have this shirt (worn in the top picture), but it's worth mentioning again because it's AWESOME!
Lisa
loves it too :)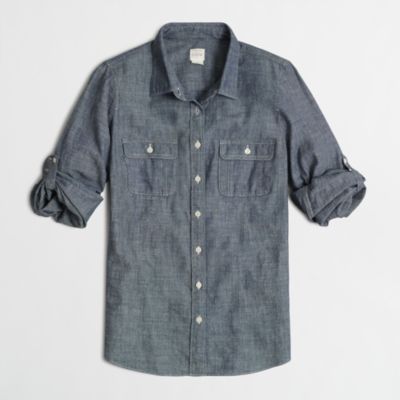 Factory two-pocket chambray shirt
How cute are the polka dots on this chambray shirt? Really, chambray is its own wardrobe staple that EVERY woman needs!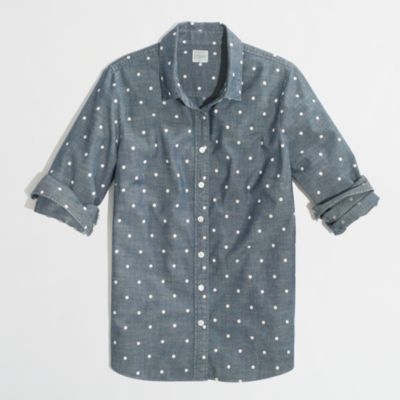 Printed chambray shirt
You'll probably want to add some color, and this coral button-down would be perfect belted over your bump, tied to hide the belly, or tucked loosely: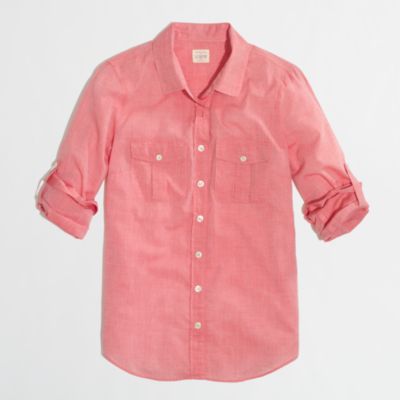 Factory camp shirt
And I love sleeveless button-downs when the summer weather gets crazy hot and humid here in VA: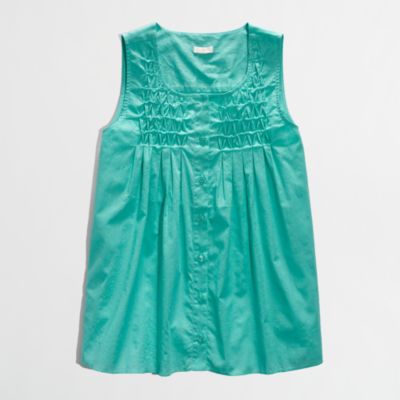 Sleeveless gathered top
Right now I'm on the hunt for a new maxi dress - my beloved striped dress has a teeny tiny little hole in a
very
obvious and obnoxious spot, so I think it might be time to retire the trusty thing :( But I'm a shorty, so I don't feel comfortable ordering one online!
What about you - what are your wardrobe staples in those transition times?
I'm trying out a new affiliate program - I *think* that how it works is I get a couple of cents if you click a link in this post, and maybe a few more if you buy something? We'll see how I like it, but I noticed that the fashion posts on here get a LOT more clicks than the others, so I figured I might as well make a few bucks to justify my blogging to my husband :) Thanks!